Jim and Mal are both certified RMA Decision Makers and can serve as independent commissioners on panels hearing applications for resource consents and dealing with planning and other matters. Our point of difference is that we have science expertise in our respective fields (Jim – freshwater science; Mal – estuarine, coastal and marine science). Science expertise is essential for evaluating technical issues, especially when numbers, models, statistics and physical, chemical and biological processes are in play. We are not easily fooled by poor science. We equally recognise that knowledge is often limited, and that decisions have to be made around that.
Here's a table summarising Mal's experience – click here for more information about Mal.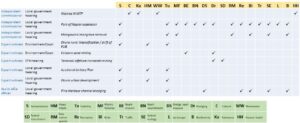 And here's a table for Jim – likewise, click here for more information about him.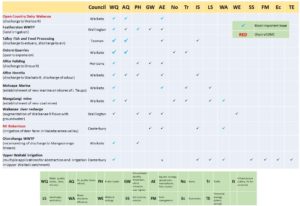 In case you're interested, here is a quick primer on decision-making under the Resource Management Act in New Zealand.
Decisions on how to manage natural resources commonly require  scientific assessments of water, air or soil. For a resource consent, experts are engaged by the applicant to prepare an Assessment of Environmental Effects (AEE) for the activity being proposed. Councils (through their s42A processes) will engage their own science experts to peer review the AEE. Occasionally, submitters (especially corporate submitters) will engage scientific experts to prepare evidence, which may be used to support or oppose an application.
The regional council convenes a hearings panel to decide applications. The panel may comprise persons from the local authorities (e.g., elected councillors, community board members) and persons who are independent of the local authorities ("independent commissioners"). Independent commissioners are typically appointed to panels to provide expertise (e.g., in science, planning, matauranga Maori) that might otherwise be lacking. Unless there are exceptional circumstances, each person on the panel must be a certified RMA Decision Maker.
In coming to a decision on the application, the panel hears, evaluates and weighs evidence presented by the applicant, submitters and experts. Having appropriate scientific expertise on the panel can be critical. Particularly for large or controversial applications, the merits of conflicting scientific and technical evidence are often pivotal,  and need to be assessed alongside policy, planning and legal constraints and guidance. All expert witnesses have a duty to be impartial, but some witnesses are better than others at explaining their views and it can be difficult for a panel member with no scientific background to elicit answers that all the decision makers can understand.
In addition to hearing applications for resource consents, RMA Decision Makers may also make decisions on plan changes, reviews of resource consents, notified proposed policy statements and plans, amongst other things.
Whilst there is an abundance of certified RMA Decision Makers with planning and legal expertise, independent commissioners with scientific expertise are much thinner on the ground.